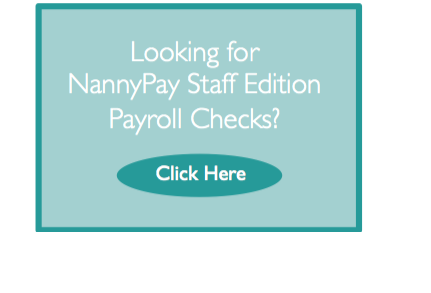 It's an irritating fact of life that stationery and form suppliers do not cater to household employers' needs. That's right, it's very difficult – dare we say impossible – to find blank IRS approved form W-2s and W-3s in quantities of less than 25 and at a reasonable cost. That's not very satisfying if you are a household employer with only one or two employees!
Essentia Software Corporation is committed to help smooth the way for household employers and to make life a little less expensive. So, as a convenience (and savings) to our customers, you can now buy blank IRS approved, and NannyPay compatible, Form W-2s and W-3s directly from us, and have the forms shipped right to your home.]
Our IRS approved forms package includes everything you need for up to two employees: one Form W-2 form set, which consists of two W-2 forms; one Form W-3; and two compatible mailing envelopes. The prices set forth below include all shipping and handling charges:
Six-Part W-2s – $ 13.99 per package
Eight-Part W-2s -$14.99 per package
Six Part
If you live in following states you should buy a Six-Part W-2 Form set:
AL, AZ, AR, CA, CO, CT, DE, DC, GA, HI, ID, IL, IN, IA, KS, KY, LA, ME, MD, MA, MI, MN, MO, MS, MT, NE, NJ, NM, NY, NC, ND, OH, OK, OR, PA, RI, SC, UT, VT, VA, WV, WI
In some states you only need a four-part form; however, the six-part form will be acceptable. Unnecessary portions can be discarded or used for any city withholding tax. These states are:
AK, FL, NV, NH, SD, TN, TX, WA, and WY
Eight-Part
If you live in any of the above states and you also pay a city withholding tax, you should buy an eight-part form.
Here's a summary of what each form contains:
| | | | |
| --- | --- | --- | --- |
| Label | Purpose | 6-Part | 8-Part |
| Copy A | Filed with the Social Security Administration, along with Form W-3 (included) | 1 | 1 |
| Copy 1 | Filed with Employer's State/City or Local Tax Return | 1 | 2 |
| Copy B | Filed with Employee's Federal Tax Return | 1 | 1 |
| Copy C | For Employee's Personal File | 1 | 1 |
| Copy 2 | Filed with Employee's State/city or Local Tax Return | 1 | 2 |
| Copy D | For Employer's Record (Can be used as extra Copy 1) | 1 | 1 |